Event News and forthcoming dates for the diary
Sunday 15th December will see our Annual Club Competition and presentation of the Club's End of Year Annual Awards. Every Club member and all of their family are welcome to come along. There are many trophies waiting to be presented, among them: Most Promising Cadet, Cadet of the Year and Student of the Year. You never know, it may just be you! So pop down on Sunday and give your support. Good luck to you all.
Youth Parade
Well done and thank you to everyone who supported us at the Youth Parade, earlier this month. It was fantastic to see so many members and their families. For photos of the day, please visit our gallery page.
IMPORTANT NEWS
Sorry but due to unavoidable circumstances, there will be no training session on Sunday 12th May for Juniors or Adults. Please pass this on to any Club members you may know. Training will resume as normal, Wednesday 15th
Club Photographs
If you have any photographs of the Gradings or of any other BHKC events that you would like to share, please feel free to email them through to us at BHKC79@gmail.com and we will add them to our Gallery page.
Grading News
Congratulations to all 31 Juniors who took part in the April Kyu Grading sessions. All of them passed and were awarded their new belts and certificates. Well done to you all! For all the photographs, please visit our Gallery page.
April 2013 Gradings
The next Kyu grading sessions will take place on Sunday 14th April and Wednesday 17th April. If you have been told by an instructor that you will be able to grade, make sure that your licence is in date. Remember to bring your attendance sheet, licence, grading fee and be sure to have a clean and tidy Gi with the correct Burnham and Highbridge Club badge. If you are unable to make either of these dates, please speak with Nick Smith directly.
Youth Weekend
On the 13th and 14th of July we are hoping to take part in Burnham's Youth Weekend. The event will start on Saturday with a Youth Parade (similar to the Jubilee Parade last year) and then on to the Seafront where there will be an opportunity for us to promote the Club and hopefully attract new members. We would like as many members as possible to join in with what promises to be a really fun day.
What a great year 2012 has been for Burnham and Highbridge Karate Club. We have welcomed many new students and seen some fantastic achievements in both Kyu and Dan Gradings.
We raised the amazing sum of £145.50 from our fun session in aid of Sports Relief and put on a brilliant demonsrtation at the Queens Jubilee event in June.
The new idea of Gi Hire has seen great success and has raised almost £100.00 some of this money was put towards the Xmas party and hire of the hall. Any spare Gi's will be gratefully received for next year!!!
The end of year party was also a great success and we would like to thank all the students, guardians and parents for their contribution towards making it happen. We couldn't do it without your support.
Special thanks to Angela, Juliana and Anne Turner for their help in the kitchen, to Matt and Emma Smith, for organizing all the games and to Lauren and Sam who managed to cajole over £65.00 out of everyone on the day in raffle tickets- proceeds of which will go back into Club funds.
Don't forget, training starts again, 6th January 2013.
On behalf of Burnham & Highbridge Karate Club, we would like to wish all of you a Very Merry Christmas and a Happy New Year.
(Photos on the Gallery page).
Sunday 11th December saw another outstanding grading session for Burnham and Highbridge Karate Club with twelve junior members and five senior members all taking and passing their Grades. For photographs please visit our Gallery page.
IMPORTANT CHANGE TO DIARY DATES:- The last training session of 2012 will be on Sunday 16th December.
There will still be training as usual on Sunday 16th for those who do not wish to participate in the Club Competition. Anyone who just wants to come along and watch is more than welcome. There will be time in between the end of the session and the start of the party at the Bay Club, for people who want to go home to change out of their Gi's. If you able to give prizes for the Raffle - please bring them along on the day, all donations will be gratefully received.
IMPORTANT DATES FOR YOUR DIARY:-
December 9th Kyu Gradings

December 16th Christmas Competition and last training session of 2012 (10.00 - 12.15)

December 16th Christmas Party at BAY Centre (13.00 - 16.00)

December 16th Club Photograph

January 6th First training session of 2013
Congratulations to Angela Bass, Lauren Constance and Andy Constance on their achievement of 2nd Dan, at the Grading today. The grading panel consisted of Nick Smith (7th Dan), With special thanks to guest Senseis Gary Swift (7th Dan) and Graham Chuck (7th Dan). Thanks also to Matt Smith (4th Dan) for his assistance on the day. Pictures, as always, in the Gallery section.
Sunday 2nd December Kenshukai Wado-ryu Karate-do Dan Grading at the KWK Hombu Burnham & Highbridge Karate Club. 13.00 hours.
Guest Instructor for Adult Session 11.15 to 12.15 hours on Sunday 2nd December is Sensei Gary Swift 7th Dan.
Matt Smith 4th Dan, Henry Gumble 7th Kyu and Mark Gumble 7th Kyu competed at the WKU Invitational at Weston-Super-Mare on Sunday 25th November 2012.
Henry Gumble in his first competition came away with a Bronze Medal in the up to 4th kyu 70k+(Purple Belt) Category, a splendid achievement, (visit our Gallery page for a picture of Henry with his Bronze Medal).
Mark Gumble competed in the Junior 13-15 50k+ up to 5th kyu (Blue Belt) and was unlucky to have a number of points not awarded his bout finished level but the judges awarded the fight to his opponent.
Both Gumble brothers fought against higher graded competitors.
Matt Smith was in the Senior 70K+ section and was narrowly beaten by a Bristol fighter but showed that the skill is still there to compete at a high level.
Matt was also the Team Coach and was extremely proud of our small squad and would like to thank all the supporters who came along for a very long day to cheer them on.
2012 has been a busy year for Gradings and November was no exception with 11 junior members taking and passing their 9th Kyu Grade. Congratulations to them all. Photographs can be found in our Gallery.
IMPORTANT NOTICE-
Remember, you are not insured if your Licence is out of date. Failure to renew your Licence may jeopardise your grading history and is essential for those wishing to grade.
It is the responsibility of the holder to ensure their Licence is kept up-to-date.
The next Kyu grading will be on Sunday 9th December.
Sunday 30th September will see the last of the Summer Grading Sessions. For photographs of all those who passed their grades, please visit our Gallery Page.
Well done to the three new 9th Kyu Students, who took part in the last of the Club's summer grading sessions and all passed. There will be another grading in one months time for those who were away or unable to attend. Photos of all successful students will be posted shortly.
26th August, we will be observing a one minute silence to pay our respects to Dylan Cecil at 10.00.
NOTE: There will be NO training session this coming Wednesday 1st August 2012 due to the Annual cleaning of the School Gym. Training will resume as normal on Sunday 5th August.
29th July 2012 - Grading Success.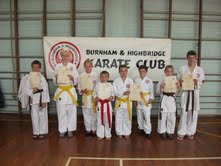 Junior smiles all round - well done!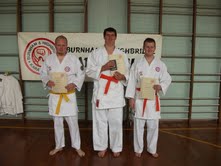 Adult Club members, with their new belts and certificates.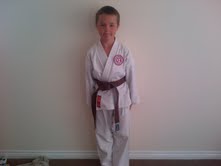 Well done Josh!
Well done to the three students, who studied and trained hard to earn their red belts at the latest grading session, on 24th June 2012. Congratulations to you all!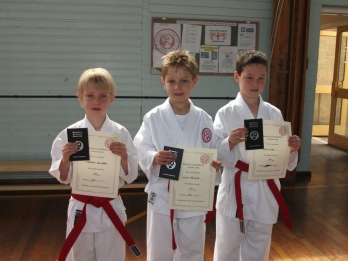 The Club are hoping to take part in the Jubilee Celebrations over the Bank Holiday weekend, in both the Youth Parade from Apex Park to the World Record Sandcastle attempt on the beach, on Saturday 2nd June and then the Family Fun Day on Monday 4th June, at Burnham Road Playing Fields, Cassis Close, where we will be putting on a display at 1.00. As soon as we have more on these, we will let you know.
Visit our 'Links' page for some videos from the Jubilee event.
Josh Proctor 4th Kyu, also had a reason to celebrate, when he competed and took 3rd place in the Boys Kumite at the WKU Invitational Competition, at Hutton Moor Sports Centre, Weston Super Mare, on 6th May. Well Done Josh.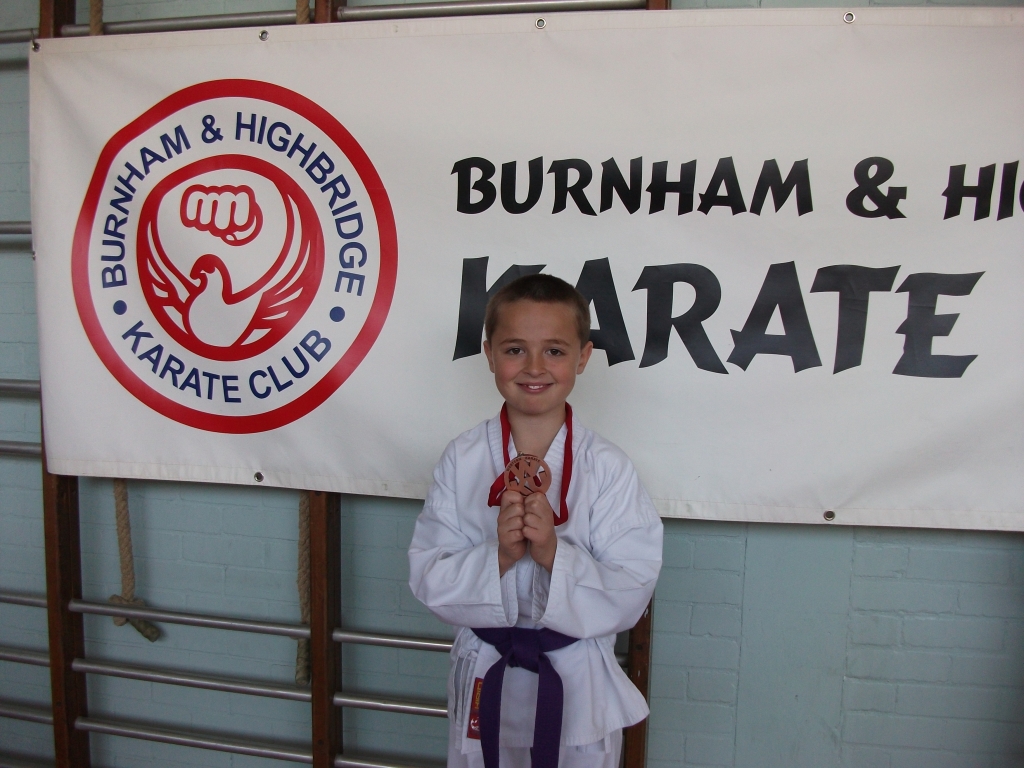 Well done to the four junior students, who successfully graded at the weekend to achieve their Red belt status and received their certificates to prove it! Congratulations to you all.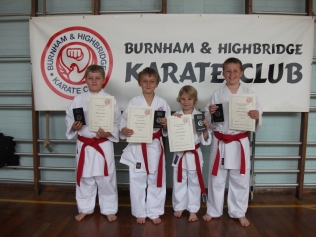 Congratulations, another Junior Grading success!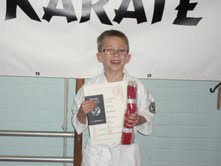 It was smiles all round this Sunday 22nd April, as the 13 Juniors and 5 adults who took part in the Grading session all passed and rightfully earned their new grades and belts. Well done to you all!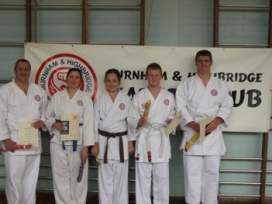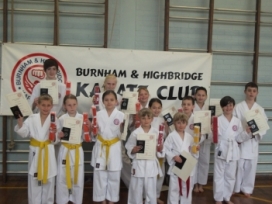 Upcoming Grading Date!
The date for the grading has just been announced as 22nd April 2012.
Make sure to have your attendence sheet, licence with photograph and grading fee where applicable. Be sure to wear a clean, pressed gi, and most importantly, be punctual.
Good luck!
Please note that there will be normal training as usual on this day for both Junior and Adult sessions.
We raised a total of £145.50 for our Sports Relief 2012 fundraising event. This was taken in donations, a 'guess the square' David Walliams competition and a sponsored silence by one of the mums (Trina Proctor) who was unable to take part in the Karate but still wanted to help raise the money.
Club founder, Nick Smith took the bunch of very apprehensive parents through a beginners session with basic kicks and punches, together with some 'crafty' but very useful self defence tips. It was great to see so many people put on such a show of support for the club and the charity.
As you can see from the photos, people were still smiling at the end of the hour - well done to everyone involved!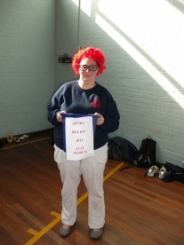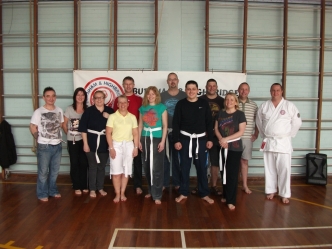 Grading news:
Congratulations to everyone who passed their grading on 11th December.
18 juniors and 3 seniors passed, which is a great achievement.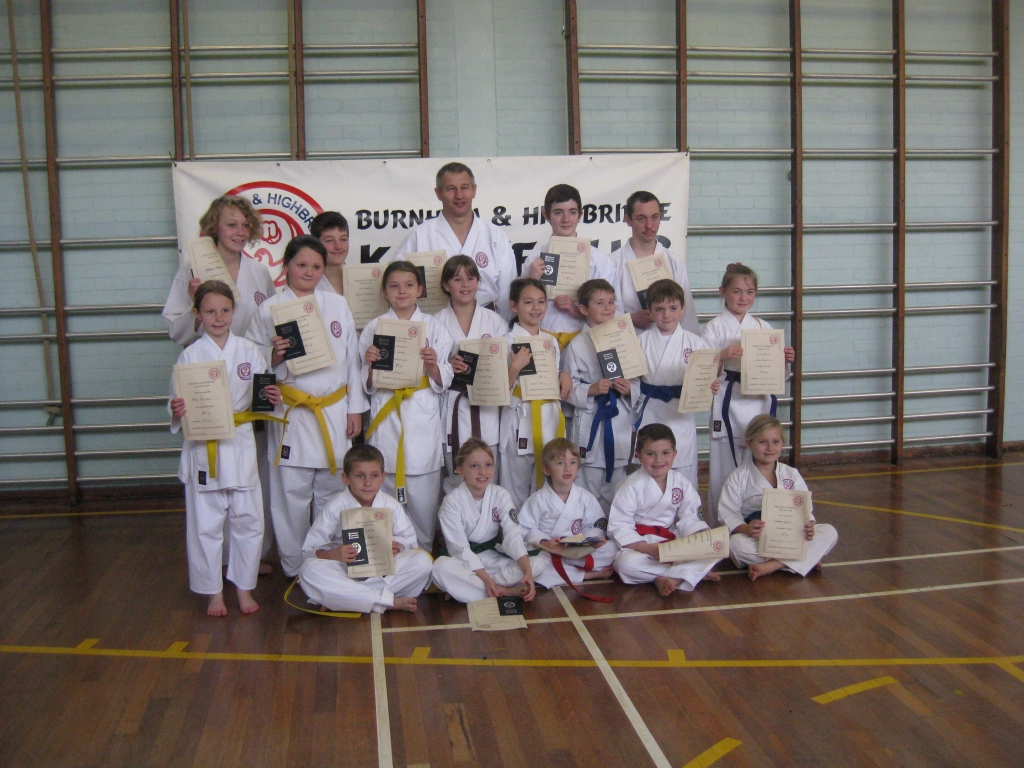 Well done to you all!
End of year prize giving event:
The end of year prize-giving will be straight after training on Sunday 18th December
at the normal training place.
Competition News:
Becky and Josh Proctor competed in the WKU open competition on 4th December 2011. Both competed in fighting with 12 year old brown belt Becky coming first and 8 year old purple belt Josh third in their individual categories. Both fought really well and with the win Josh has in his previous competition, makes this a very successful time for the club. Matt Smith, their coach is delighted with the results.
Well done to them both!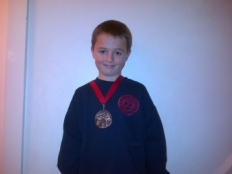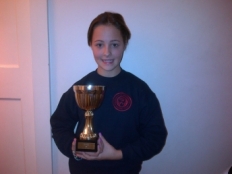 Archive
Matthew Smith achieves 4th Dan Black Belt: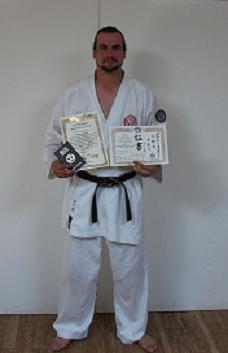 On one of the hottest days of the year 25 year old Matthew Smith of the Burnham & Highbridge Karate Club took the test for his 4th Dan Black Belt in front of a panel of 7th Dan Black Belts at the King Alfred Sports Centre in Highbridge.
The exam consisted of a Theory Paper which he passed with 99% mark followed by a physical grading of his skills in the martial art of Wado-ryu Karate. The perspiration and intense training paid off because he passed with flying colours.
Many thanks go to Andy Constance 1st Dan Black Belt who assisted Matt in his grading and admirably took some punishment!
Matt has been training since he was 5 years old and has had to wait until he reached his 25th birthday to be eligible to attempt the high grade. During his karate career he has competed at National and International events in the British Isles and was offered the opportunity to compete in Japan.
The Burnham & Highbridge Karate Club train at the King Alfred Sports Centre and anyone interested in joining the longest established martial arts club in the area can contact Nick Smith 7th Dan on 07971 679455 for more details.
===============================================================
Nick Smith attended the Rheindahlen Karate Club in Germany recently. Here are a few photos from his trip: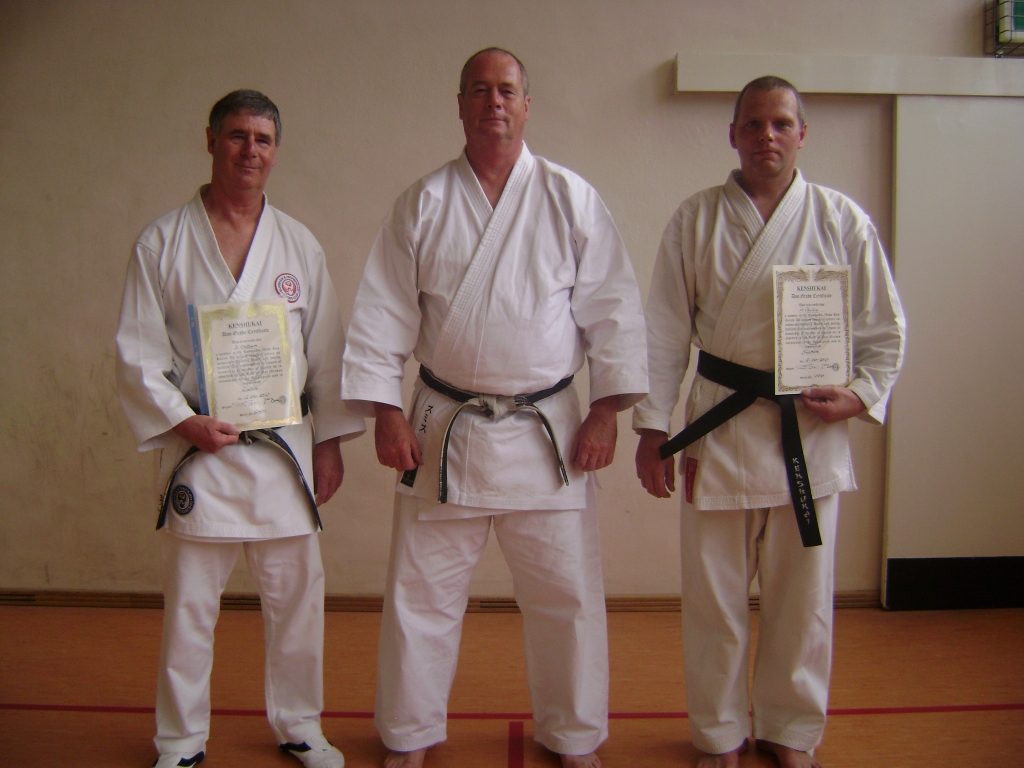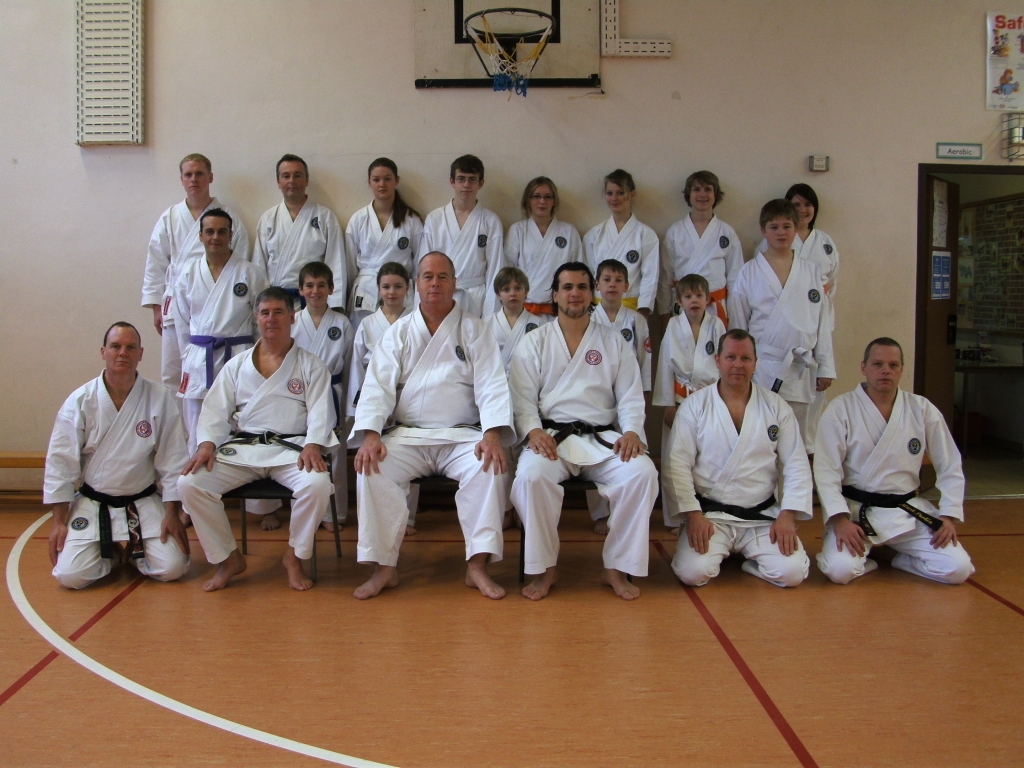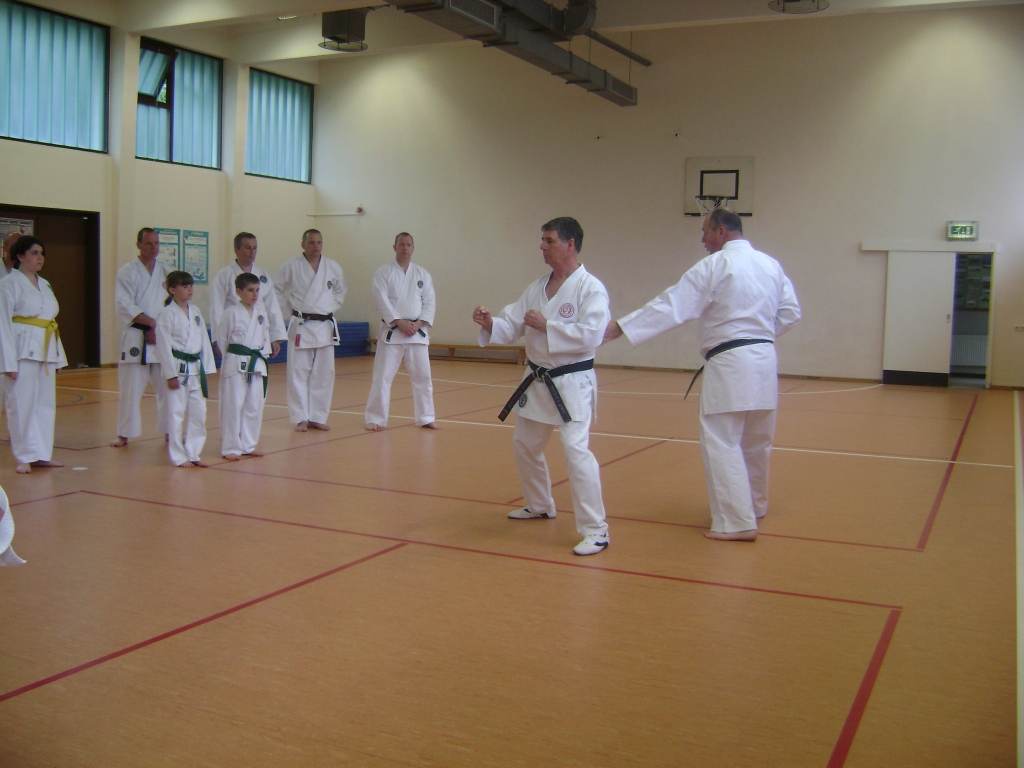 ------------------------------------------------------------------------------------
Grading News...
The Club were celebrating on Sunday 24th July when many of the Club members went though their grading exams. Nick Smith, 7th Dan and Chief Instructor, said "it was great to see so many Juniors pass in one day". One adult, Joe, who attended, passed the same level as his son, Josh.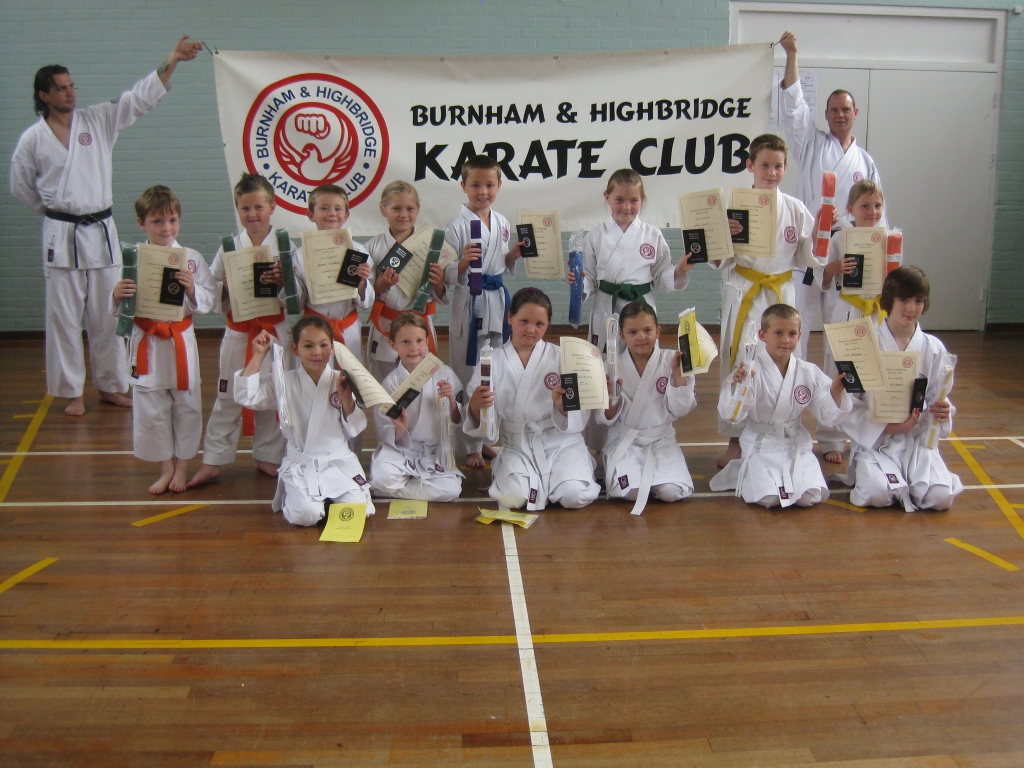 Juniors
9th Kyu: Liam Rosser; Holly Russam; Isabella Di Mascio; Chloe Lainton; Lorna Curtis;
7th Kyu: Nikola Fabicka; Samuel Clarke
6th Kyu: Lauren Bird; Sunnie Burrows; Jack Keates; Sam Smith
5th Kyu: Milly Smith
4th Kyu: Josh Proctor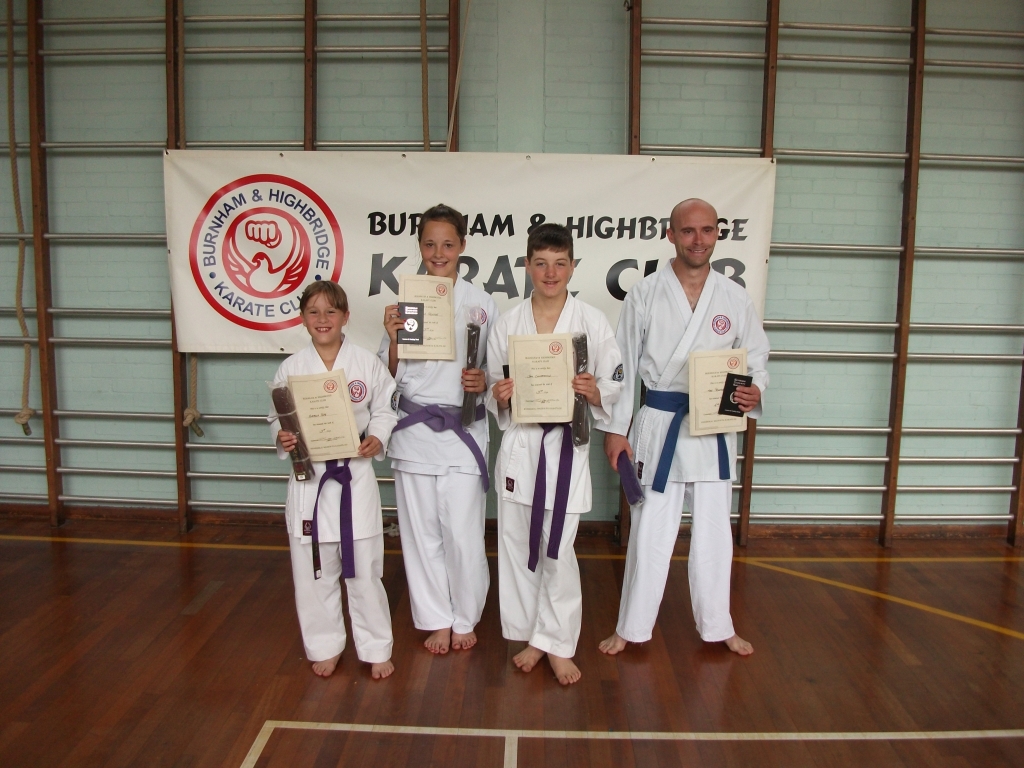 3rd Kyu: Rebecca Proctor; Sam Constance; Georgia Pope
4th Kyu: Joe Proctor (Adult)
The Club recently attended the Brent Knoll Village Fete and entertained the crowd with a karate demo of their skills. More photos are in the gallery.